by Robin
Ok.... I really don't have snow like the rest of my East Coast friends, or pictures of snow, but I have ripened cherry tomatoes. I picked the red one already and these are getting so close any day now. Then, I have no excuse but to eat another salad. Don't you just love those little furry stems?? I took this photo from about 3 ft away. I *love* zoom.
..... and I have cilantro ...... My one lone cilantro plant that survived after Mama Cilantro died last year. I put seed after seed out and I finally got one plant. Yeah ..... salsa eating can continue! I never noticed how purply cool that stalk was before today.
Oh and..... I have one more great dog picture. This is my Captain who deserves to be trained in agility or flyball or something fast. He's really a border collie in tan & white. He needs a job. He's rarely still. My kids hate this photo because they think he look vampire-ish. Hmmm.. I guess the sun was messin' with his eyes, but I still love the picture.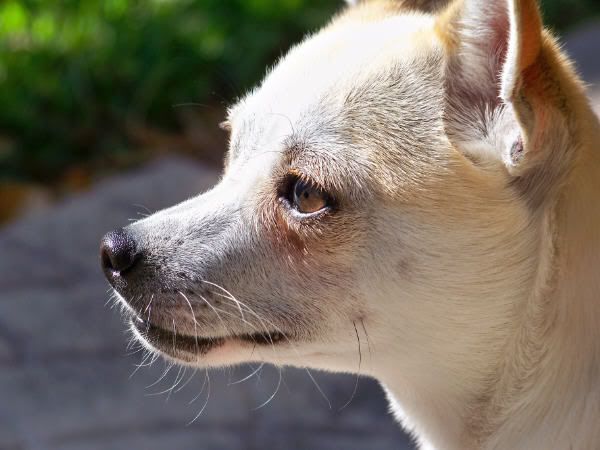 Poor Captain got his flea pill today and it upset his tummy. I gave the Comfortis on a recommended full tummy but instead of helping, I ended up picking up 4 piles of food off the floor. Not a finer moment from today.
So, while it isn't fantastic photos of icicles or snowmen, it's what I can do until I move northward. .... Like never....