by Robin
A few weeks ago, my boys took
these 4H pictures
to go into County competition. Yesterday, they were judged in the morning and available for viewing in the afternoon.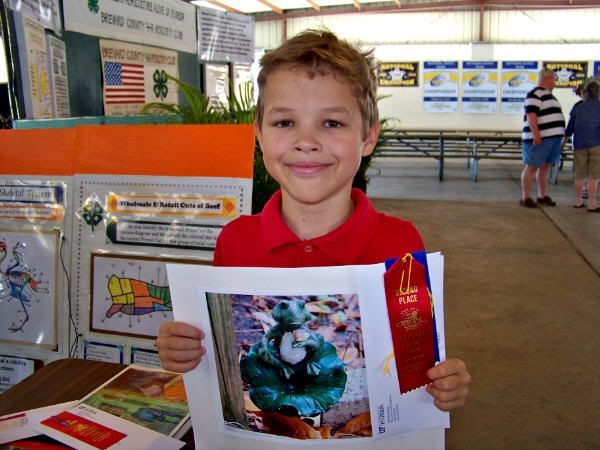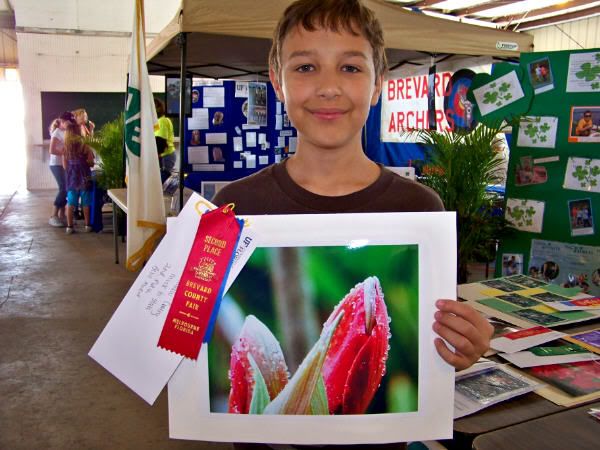 I'm very proud of my boys. They compete against their own age group
and
individually for points. Both of them earned a Blue AWARD which is based on points. They both made 90-100 pts for their photography entries. After that part is done, they compete against others in their age division and both received 2nd place RIBBONS.
(capitalize to point out differences)
If you placed within the 1-3rd places, you received an official invitation to State competition in Tallahassee. This is our first time doing 4H photography (vs open photog) and so they're happy to go to State. Our dear friends had the picture that won over the entire State last year and so we hope our club can continue "holding the trophy" so-to-speak.
Sadly, we missed the open photog deadline due to Lego League obligations. The # of entries was low due to change in months, venue & location for the County Fair. Our first couple years, there were hundreds of pictures. This year, barely a dozen or so.
Below are the fruit/veggies that were entered. Again, low turnout but I think that was more because it is still rather early in the growing season for many of us who dealt with flooding rains from Fay and then hard freezes in February. I could have entered my cherry toms and green beans but I chose to eat them instead. My friend's daughter took Best in Show with her radishes.
Here again, low turnout for the casting competition. It basically was my friends' kids and my boys. Her eldest 3 teen boys bowed out, allowing these 4 to compete against one another, as a group instead of age divisions.
Simon Peter took 1st & Best in Division (Show?). Blondie (name withheld) took, 2nd his sister took 3rd. Andrew was a pretty good sport about being in last place, inspite of his 3rd place ribbon. It is suppose to be a participation - green ribbon.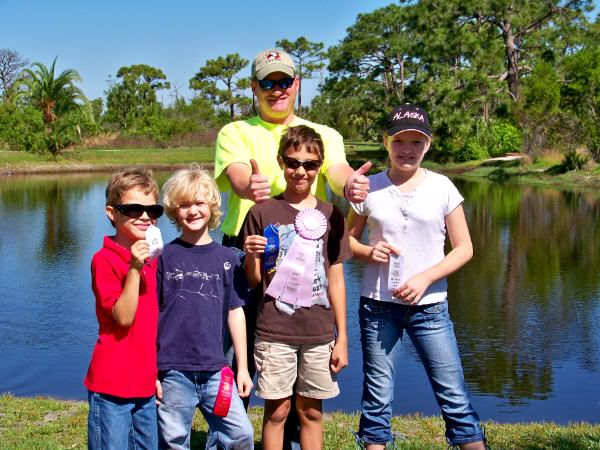 Last week, we got the results for our Marine Poster & Drawing Art. There were many blues, reds and big rosettes. Andrew and I took a Best in Division. I'm going to guess that I was the only adult to submit an entry. Mine was more of a political statement than anything.
I'm going to post mine here. We haven't picked up the other pics & ribbons yet. They were on display last weekend. The black thing on the bottom left is a sunken boat, named SAFMC, not-so-in-honor of the S. Atlantic Fisheries Marine Council who just closed down Red Snapper fishing for 6 months.
We also had a fun taste-testing of various honeys. (Wild Flower, Palm, Orange Blossom, Tupelo, ??) We looked at hives, bees making their combs and came home with a jar of Palm Tree Honey. Yum.
God bless!