by Robin
Today, my boys are hosting a semi-work, gaming, pool party with their two Lego League buddies. The third buddy got an eye infection and couldn't come. The guys have decided to come up with their own Biblical aliases, Joseph and David.
Life has changed since the last party we hosted of homeschoolers for a shuttle launch. Nobody needs mommy. Nobody needs help finding stuff. The only thing they need from me is lots of food and somebody to listen to their jokes. Like this one...
Did you know that the Energizer Bunny was arrested?
.
.
.
.
.
.
.
He was charged with battery.
They've created new words & noises to the Popeye song. They come equipped with
uploadable
software games and DS
downloadable
games (you play together but on separate Nintendos) and jumbo-sized water guns. They're the up & coming techie kids who are totally wired for knowledge and humor. AND they have some wonderful manners. I am very fortunate that my boys have friends with great parents and are doing a superior job of raising their children.
Actually, it is rather nice to have reached this stage in their lives. They're fairly independant, they're still my best buddies and yet, they have the beginnings of their own lives & friends.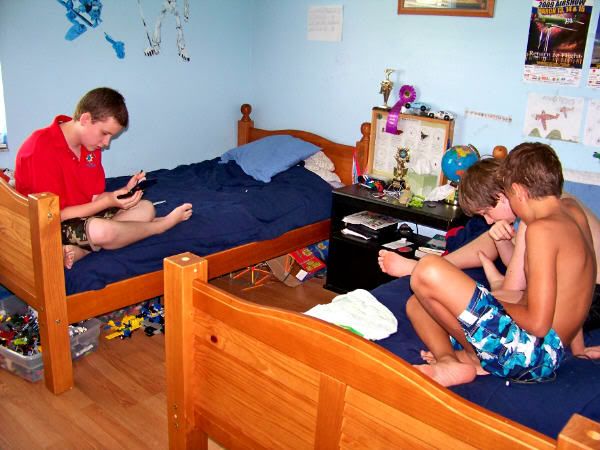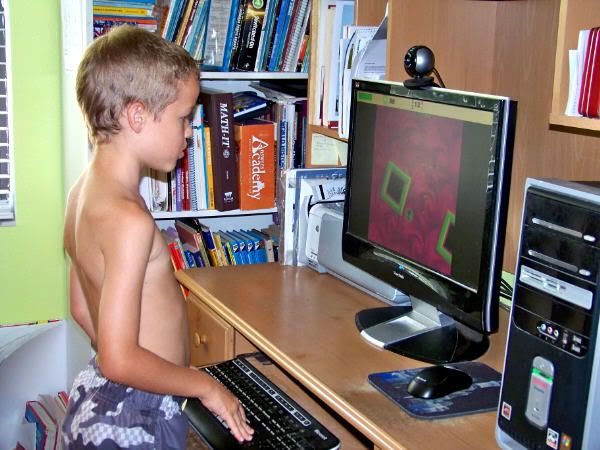 The other great thing is that tweenage boys aren't particular worried if I have dust bunnies, paper piles, or a few things out of place. A working computer, food and pool are their only needs. Oh yeah, and listening to more great jokes.....

What do you call a gorilla wearing ear muffs?
.
.
.
.
.
.
Anything you want. He can't hear you.
Have a great day!