by Robin
For Christmas, my boys were given a gift called the Biblical Garden. I posted on it months ago when everything first came up, but nothing since. Well, it had some pros & cons. It was a great way to start seeds, but the peat moss was unsuitable for growth. We had to start over again with what seeds we had left but with good potting soil.
I'm so glad we did. Here is my Joseph's coat which would be an asset in any garden. I wonder why it hasn't had more appeal in America. Look at the amazing varigated color!!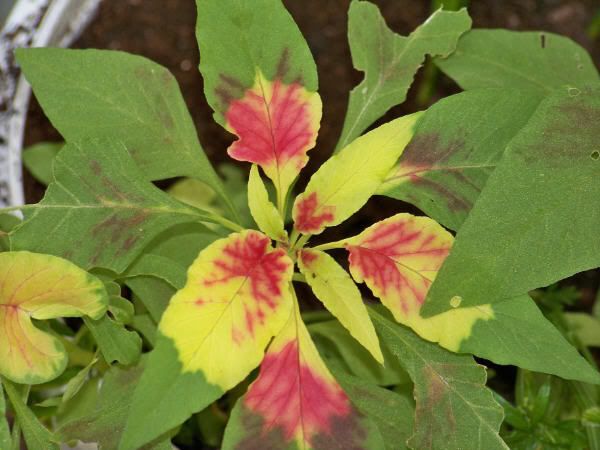 Here is the view of the pot. In the background are young date palms which will eventually need to be split off as they grow. There was a 3rd seed but it fizzled out in the heat. In the front of the pot was some Flat-leaf Italian parsley which drooped over w/ size. I'll probably just snip that off.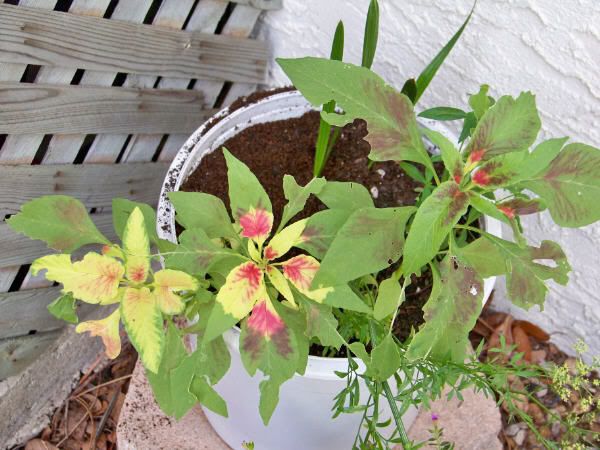 Here is our main garden. I labelled it so I could go through each section.
A - Big boy tomatoes couldn't be salvaged w/ the bugs and some type of disease that started after that. Heat is also killing them. The tomatoes ripened but they're soft on the inside. Weird.
B - twig in air - Butterflies - catepillars are munching on the good green leaves. The good news is that there seemed to be less of them this year.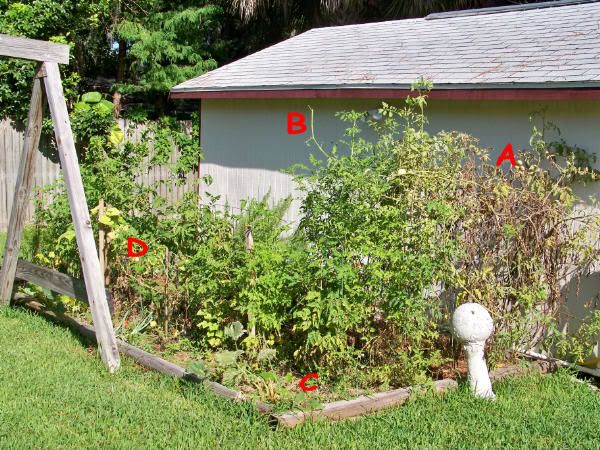 C - Zucchini squash died but it seems to be having a new growth spurt, so I left it. I wonder if I'll get anything out of it in the fall.
D - Cucumber vines are dying out. I only got 2 decent cucumbers out of my plants this year. I have a couple half pieces and strange round ones, but overall, I'm disappointed.
My Romas produced big time. The Heirloom tomatoes don't produce if nights are over 70 deg. So, I wasted time & space even putting them in. If they survive hurricanes & heat (they're over 5 ft high), I may get fall tomatoes which would be nice. We'll see. I also didn't get a single squash due to slugs eating all my fruit. The okra is happy & producing well.
Below, I lost more than half of my bell peppers. I've only gotten a couple to eat, but it looks like I have a nice 2nd wave coming along this month. Left center are 2 banana pepper plants. I have a couple coming along now. Right top corner is a sunflower plant, growing rapidly. Center left (low round green thing) is cucumber seeds that were composted and took off as plants accidentally. I'm leaving them. Maybe they'll survive the winter & produce for me next spring. Center right (somewhat hidden) are 4 watermelon plants. Lots of runners but no blooms or fruit yet. It may overtake the entire space by winter. I may let it too. Onions in the wall-side garden are slow growing but doing well overall.
These are my San Marzano & hot peppers. They are about to all be plowed under. It is a low producing bed, so I'm going to really work on composing, adding manure, fertilizing, whatever it takes before I put more in here for the fall. My hot peppers are in their 2nd season, so they will be killed off too. I'll put new ones there.
I have many seedlings started for the fall. I'm hoping that in 6 wks - 2 mo, we'll be primarily done w/ hurricane season and I can put them in the ground for early plantings.
Overall, I have to say that I feel the hard & late freezes in FL this year really put a hurting on the gardening this year. By the time my plants matured, the heat overtook some of them. While FL has 2 growing seasons, they're rather short. I'm beginning to believe that our Fall season is actually the better of the 2 seasons. Of course, the plants love the longer days, but it helps to have them well-established as the light hits & before the heat comes. My cherry tomato production was WAAAAY down because T.S. Fay flooded out all my fall babies. I had to start fresh in the new year.
The next pictures will show things plowed under & gaps in certain areas.