by Robin
It's time to tie up a couple of lose strings. Jack has been very busy with end of the month reports while I've been busy the past 3 wks with therapy, singing & Christmas parties. My house kinda fell out of order and projects were laid aside. My garden....... oh..... my pitiful garden. Weeds, bugs & drought.
I've decided to cut my losses for the Fall gardening and work on bringing in manure/fertilizers for prepping the garden for a great spring crop. It will be time to plant in January. My goal is to get my tiller back in operating order (or just rent a smaller one).
Meanwhile, I picked all the remaining leeks & bunching onions from my small garden against the house. They were not growing well there, so it was time to pick that & move on. Even with being small, I'll still make good use of them. I had some Spanish yellow onions there as well and they were picked a few months ago.
The center parts of Garden #2 is growing but I will till the outer parts and add more manure to get it ready for bell peppers or whatever. (Oak leaves are falling) Garden #3 sat empy all fall. It's in a sad state at the moment.
I'm not sure what I'm doing with the main garden except trying to fight red mites again on the cherry tomatoes. My romas didn't make it. Neither did most of the lettuce & herbs I planted from seed. I'll still cover with a tarp when the freezes come, but only so I can have my cherry tomato & hot pepper plants survive.
I have some bonus cilantro. I replanted a mango tree with a bigger pot & fresh soil and must have thrown seeds without remembering it. That will be nice. Plus, I do remember throwing some Joseph's Coat seeds out there for color in the pot.
Jack was offshore fishing today while I continued to heal (otherwise I'd been out there with him). I spent a little time refreshing my faded concrete turtle.
This is just the base undercoat. You'll see it recreated over the next couple weeks as I add detail.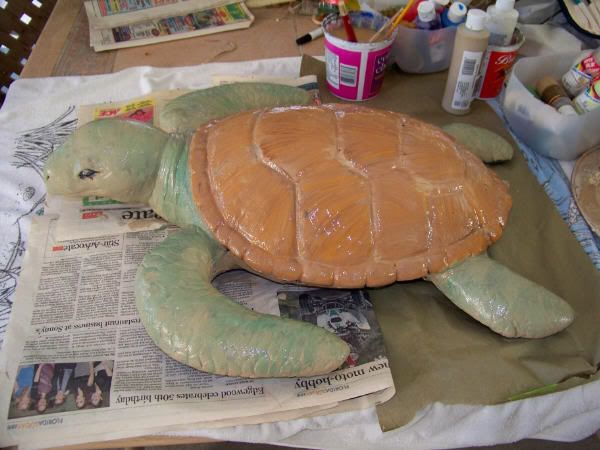 Happy New Year's to all my friends & family!