by Robin
We're having Christmas again!!!
No seriously, we had a field trip with our homeschoolers from our church to a tiny city called Christmas, FL. It was established on Dec 25, 1937 when soldiers arrived to make a fort close to the St. John and Lucie's rivers. They were working their way down the state of Florida. I'll let you read the sign yourself.
We had a large crowd for the tour, so we split into youngers & olders. I stayed with Andrew & the younger group. That's why you'll see more pictures of him on this post.
We were here on a cold day, but our tour guide explained that because of all the holes in the walls, mosquitos were awful at night, hence the mosquito netting. The whole family slept in one room which had a fireplace on the other wall. Mother Yates did all her cooking & feeding of the kids on the porch.
The Yates drove cattle and one year Mr Yates died of measles while on a drive. The older Yates boys added on this kitchen for their mother after that time.
The smokehouse was off a ways. In December, Ft. Christmas has "Cracker Days" and so they had recently done a lot of smoking in this house. The kids complained of the smell.
Each child was given a chance to pump water. Then, they watered the nearby tree. They also enjoyed seeing the chickens and the garden.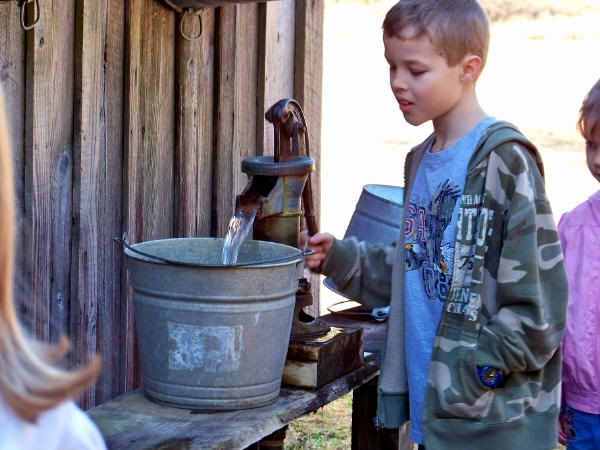 Around the other side of another, more modern, house, they children listened about 19th & early 20th century food.
They created fresh butter & tasted it. They also enjoyed cane syrup and beef jerky. I suggest that you don't have some of both in your mouth at the same time. That was disgusting.
Tomorrow, I'll post up the pictures of the Fort itself.