by Robin
One thing I've noticed about my boys is that you don't have to drag them into liking guns & war stories. They love miliatary information. They write stories about it. They play games about it. There is something in their genetic make-up that makes them gravitate to protecting territory & family.
My youngest is studying a book called "Mystery of History" with his co-op class. One of the crafts they did this week was called a Phalanx - a rectangular military formation.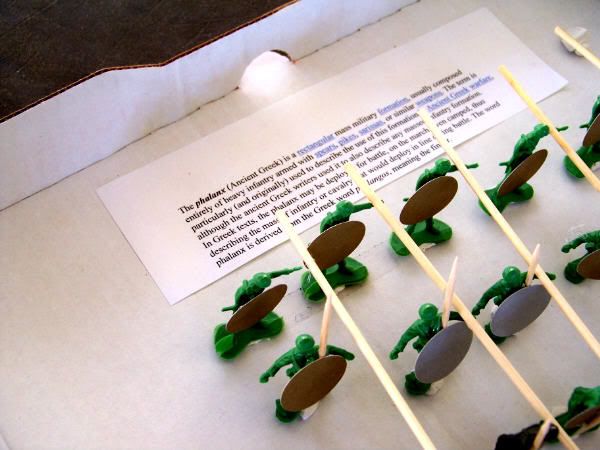 Those gold & silver circular "things" on the army men are their shield. They had individual spears but also carried long spikes as a row of men. Very interesting, don't you think? I'm very thankful to the Moms and 2 Dads who put this series of crafts together. Last week, they spray painted many large appliance boxes and created the walls of Jericho out in a field. WOW. That is something I never would have done on my own.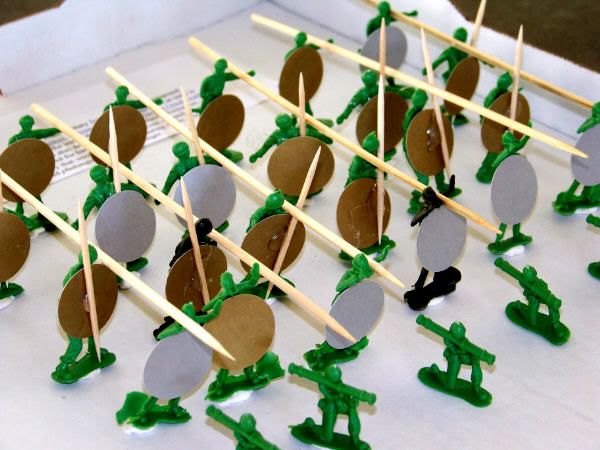 For those homeschoolers who worry about socialization (not me) or keeping accountable, co-ops are wonderful ways to learn in groups yet still have all those freedoms enjoyed by homeschoolers.
As for my boys, I'm sure they'll go out after they're done with school and have a nerf battle around the pool & palm trees. That never gets old to them.
Be blessed!