by Robin
Jack and I have been together for over 19 years. Our anniversary is coming up soon. We fell hard and fast for each other and couldn't wait to be married. However, one thing we wished we always had was a chance to meet in our youth. It's not that we aren't thankful that God's will put us together when we did meet. I guess it is more of a longing to have been with each other from the very beginning. We would have loved to skip the heartache of divorce and/or broken relationships.
However, God is the God of second chances. We did meet, albeit later. We did fall in love. We did struggle to make marriage work for better or worse, in health and sickness and so forth. We had beautiful babies together. We came all this way and God is still blessing.
The other night, Jack's Mom came to dinner and on her finger was Jack's graduation ring. At some point, he gave it to her. I imagine that it was when he went into the Army and couldn't keep certain momentos with him. Jack thought it had been lost over the years. He always talked fondly of how he struggled to purchase this ring and how much it meant to him. NOW, it was back in his possession.
He no sooner took it off his Mom's finger and then he put it on my finger. He asked me to go "Steady" and I said, "Yes!" How sweet. No other girl ever got to wear his ring. Just me. I cannot express how much that meant to Jack, and me. I know that seems silly but it did mean a lot.
Thank you LORD for such a blessing in a simple, yet mysterious way.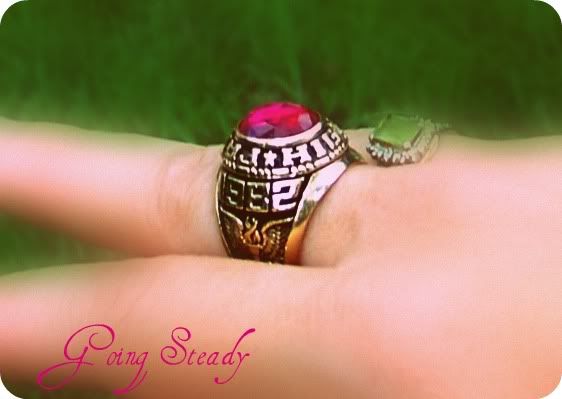 God bless,
Robin