by Robin
Well, the garden and I were very busy this week. I did my best to work out the kinks in anything irrigation, from drip rate to water not flowing at all. We are at 100% capacity and every seed is planted, as of today.
So, let me give you a quick breakdown, mostly through pictures. I'm sure you're not as compulsive about reading this as I am about documenting it. I am documenting to prove how much better the drip irrigation does in a very hot state (zone). We are in the midst of our dry season, until late May. Once the rains come, the heat sets in and some plants could die out. It's a tricky growing season. I've already proven to myself that my winter broccoli production was far better than last years. Plus, we had a drought, being under 3" of rainfall.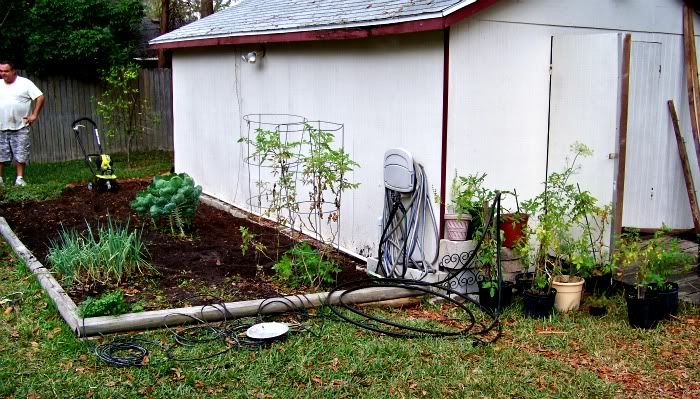 Jack tilled the horse manure into the plot. The kids and I pulled as much as possible. One child cut all the bits of broccoli to be saved. The other one and I did plenty of weeding, hoeing, removing lines, etc.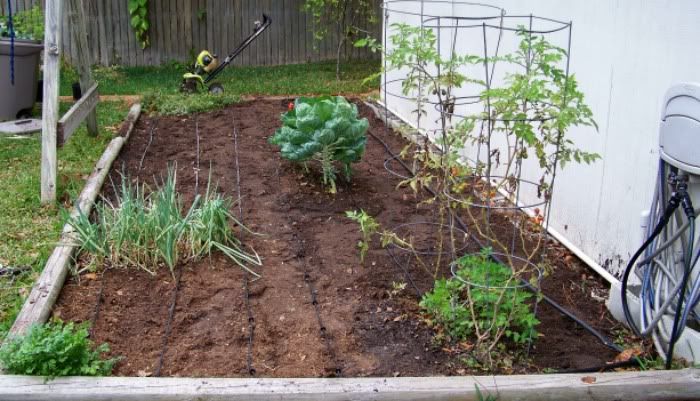 This is what was salvaged. The rosemary, thai basil, 1 oregano and 1 chocolate chip mint plant were all removed to be transplanted.
This will be our new herb garden, right beside the house. I no longer have to step into dirt to get my herbs. I lost all my sage this year, so we had to start out with seed again. I still have my thyme pot but I can never get enough thyme.
Here are the seedlings with their info posted on the picture for future reference. I managed to cut all my germination times in half.
Now, here is one place where I'm trying to make the water release more consistent. My newly transplanted cherry tomatoes are very happy and they're getting a nice drip-drip. As you can see, the back row tubing is larger and releasing more like a flood, even with a clamp on the front end of it. Because of this, I decided to put my water-neediest plants back there. I alternated queen sunflower plants with a Porterhouse hybrid (beefstake) tomato, which produces 2-4 lb fruit. I want all that water to be used for developing deep roots and heavy fruit.
So, that is it for the first week. I can't wait to see how it will change by next week. I am doing my best to prevent squirrel damage. I don't think they have found my sunflower seeds yet. Yeah!
God bless & Happy Gardening.