by Robin


We started off our week with making a small batch of strawberry jam. Strawberries are in season and they went on sale, too. It never hurts to have a few jars put up for the year. Aren't they gorgeous!
My sweet, sweet 'Andrew' was on restriction from electronics so that meant he had a lot more free time to help me in the kitchen. He does love to cook, bake and chop.
I have no idea why he likes that xbox so much. He's a much better chef. You don't think it is giving him any violent tendencies, do you?
He really is a delight to have by my side. He keeps me laughing even if he eats a few while he works. I do too.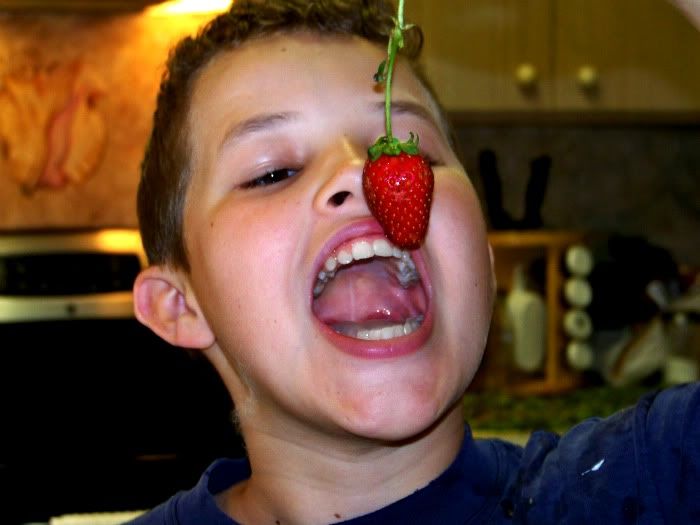 Anyhow, we cooked these down and made 3 large jars and 3 small jars from the 4 pints. We kept 1 pint just for nibbling on.
As you know if you followed me earlier this week, we also cleared out the garden which left us with a lot of winter cilantro to dry. Normally, I chop it up & then dry, but I didn't have time since we were working outside 'til dark. So, we'll see if this method works as well. So far, so good.
Every week, for 3 weeks now, Andrew and I have been attending Hydroponics (Jr. Master Gardening) class for his spring Science credit. He loves this because it is the one day a week he gets to skip book work for this subject and work with his hands. I do believe he is a kinestetic learner. Anyhow, I will save those pictures for a separate blog but I'll tease you with this adorable donkey that lives on the farm. He came over to me for some loving but my camera batteries died. I will get better pics of him another week.
Like clockwork, the week flies by and Friday is here. Our 'Simon Peter' gives guitar lessons to his friend. She is a great student. He is a very gentle teacher. I enjoy listening to them as I work on laundry or grade papers. It makes me think about the man that he's going to become one day.
Well, the weekend is almost here. We've had great weather. Today almost broke a high temp record at 87 degrees. March winds are here, too. The cobia are arriving offshore and the winds are keeping us from being able to hunt for them. Waiting for our opportunity...
Meanwhile, I do my motherly duties... like finding out why the kids are running to the backyards with their nerf guns & cans of spray paint. Sounds like a project needing supervision.
God bless & have a wonderful weekend.
Robin