by Robin
It has been such a long time since I updated. Photobucket was giving me grief about uploading pictures and that squashed my creativity before I even began to write about things. But, God is good and I was able to create a new library to upload pics for you. I hope this is the beginning of a new season of blogging for me again.
Ok, so on Mother's Day, the guys took care of the house & had me rest. But, I couldn't rest for long and grabbed the camera to take pictures of my garden. Oh how things have come & gone. Most of the 'gone' is thanks to the chickens but I'm learning to not be upset at them because they bring me so much joy in other ways.
And if I wasn't obsessed enough over chickens, I found somebody else who is worse than I am. Tiki. I could barely see him between the rows from where I sat on my green bench that Jack restored.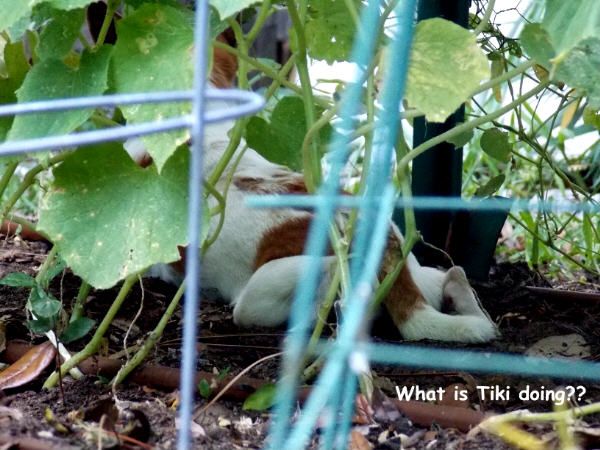 And it wasn't long before I could see why he was laying right there. Miss Pearl was laying down in the dirt on the far row.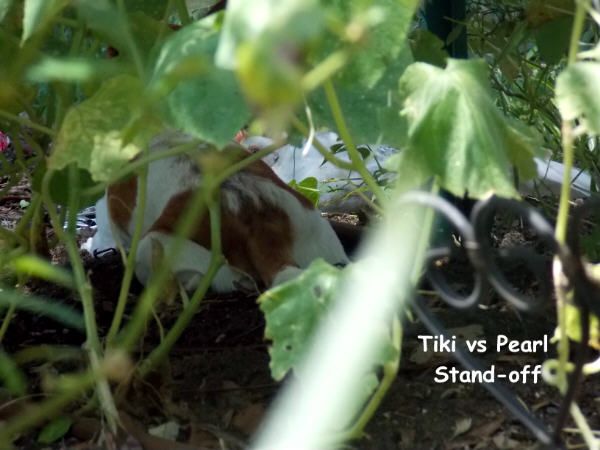 I thought I may be able to catch a better picture at another angle but everyone moved around. So, like any patient stalker, I waited. Tiki settled back down and continued to watch his chickens.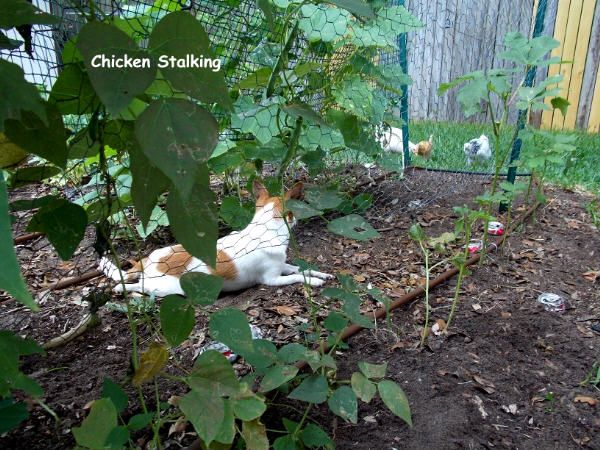 Tiki has a thing for our newest Miss Thang.. Peaches....the buff Orpington at the end of the row. Sometimes it is too much for him to resist and he jumps up to spook her and watch her give flight. I do believe he lives for that.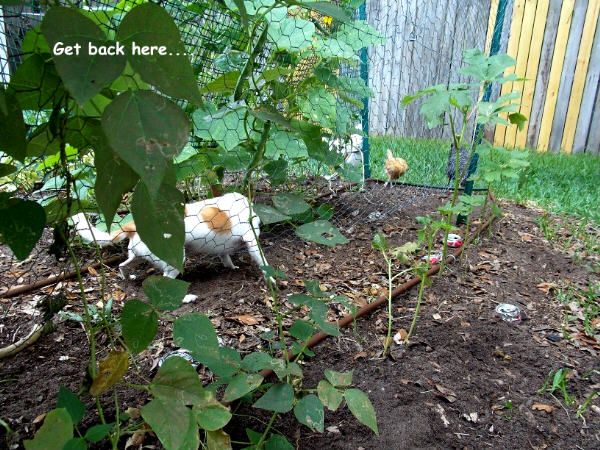 And so we continued to move counter-clockwise through the garden. Me stalking Tiki. Tiki stalking chickens. It was certainly a game of cat & mouse where neither cat nor mouse existed.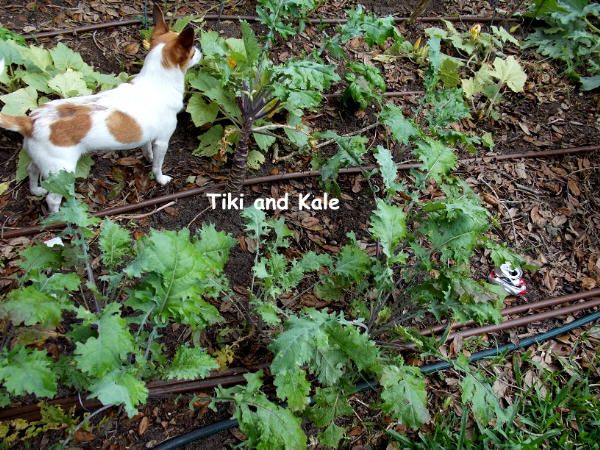 Eventually, I grew bored of the chase and took photos of the garden.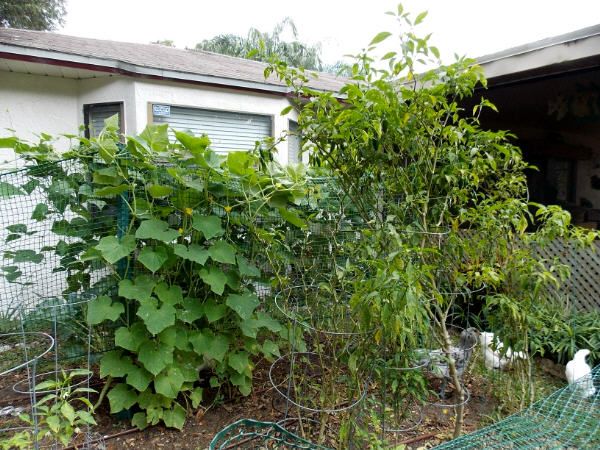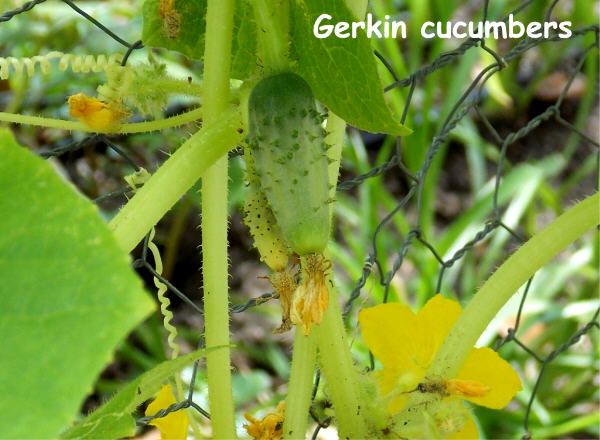 These are my late-coming turnips. Red Spider mites wiped out my cherry tomato crop, and so I turned to the unknown to see if I could get anything to produce where the pest was. So far, it looks like we have a good start on our hands.
However, I did see the bugs jump from the tomatoes to potatoes. Not good. I managed to get it under-control (after all the fishing left it unnoticed for days). However, I think the damage was far too great. Many of the leaves were destroyed.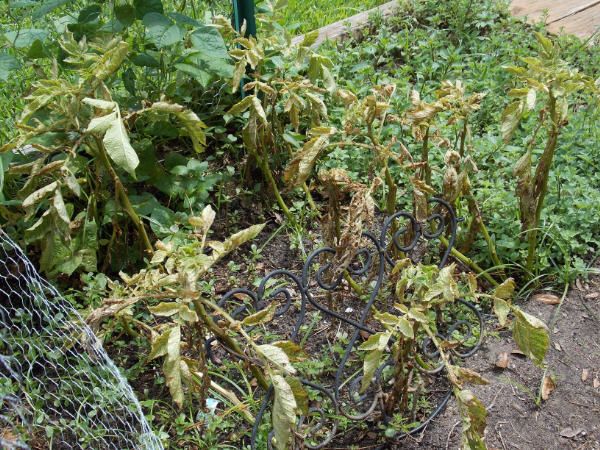 Thankfully, they didn't bother the Mayflower beans that were sitting next to the potatoes. They seem to be thriving. These beans supposedly originated from the line of beans coming over with the Mayflower. Heirlooms. I will not eat any of these beans while they were green. I am saving them for winter soups.
A friend and I decided to share these & the Black Valentine beans. We're trying to prevent cross-pollination so I have a couple varieties place away from other varieties and she has some too. At the end of the season, we will share beans. It may be slim this first year, but at least we can probably produce enough to have a big crop next year. I was only entrusted with 6 black beans. Hopefully, I've done a good job of multiplying them (or rather God has).
And then there are my herbs.
Back over a year ago, when I ripped out all the tropical misfits & weeds over here, I envisioned an herb garden that was easily accessible and full of life. I didn't want perfect rows. I wanted something FULL. I got it. They can self-germinate right here and hopefully never be bothered by tilling & being stepped on.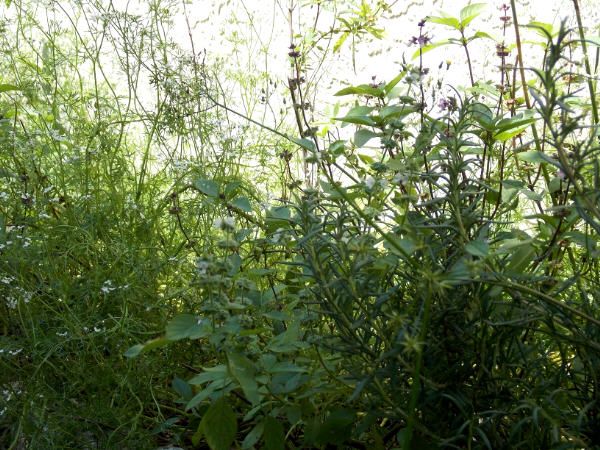 And then, there are my potted babies. And Easter lily that was a gift to us when Jack's grandmother passed. An aloe plant that has came to me as half-dead 1" baby and yet has multiplied beyond my wildest dreams. I have a pot of sage which is our bunny, Lulu's, favorite herb to nibble on. And there is dill, about to go to seed. I'm hoping I can use these seed for my first jars of canned pickles. I think I have timed that out perfectly for both to finish about the same time.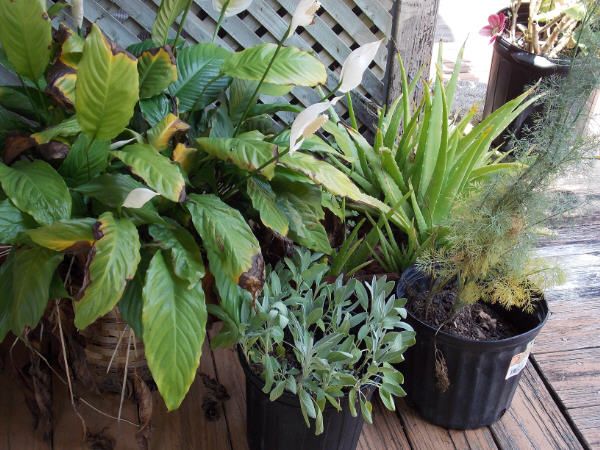 Here is my first zucchini. I do believe we've eaten 4 to-date right now. I'm not seeing too many girl blooms on them or my squash. This zucchini was supposed to be super-prolific. Hmmmm....
Here was a later haul where we ate a lot of these things for dinner over the weekend.
Oh and I wanted to share one more brag picture of my herbs. I'm having a banner year for basil which makes me very happy. I can see a lot of pesto in my future.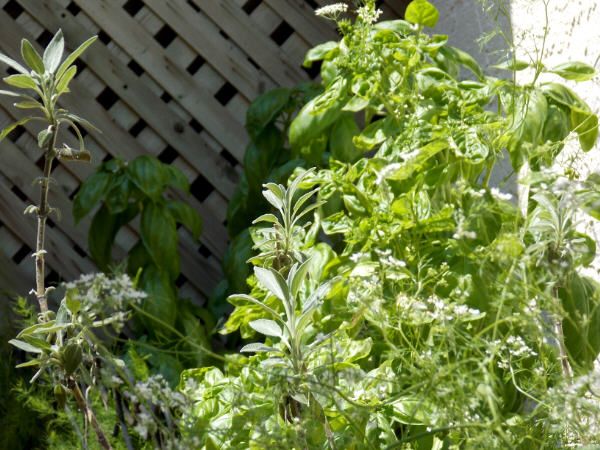 I didn't take pictures of the swiss chard or peppers but they're coming along nicely. Why have I never known how good swiss chard was?? It has become a garden favorite. Of course, I have to beat the chickens to it. ha ha.
God bless! Happy Gardening.
Robin