by Robin
In the summer, there is always plenty of corn at the local grocery stores. If you can grow it, even better. However, I wait until I can catch them on sale and buy up a bunch. Saturday, I was able to get them for 18c an ear.
We had a little corn shucking party. I kept reminding them they were lucky I only bought 20 ears. If we had a farm, they'd be shucking a whole lot more.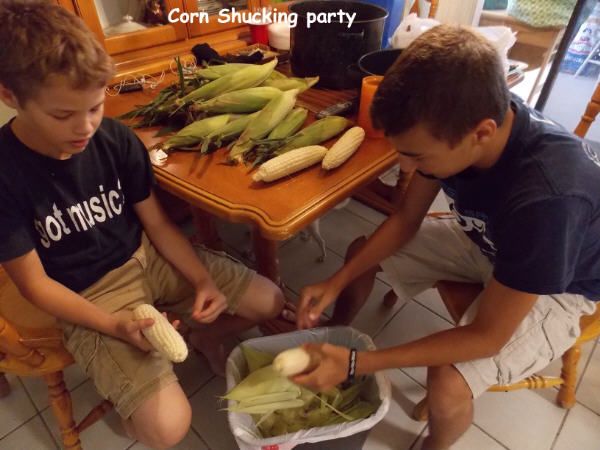 Beautiful little silver ears, except for one which was yellow. Not sure how that happened.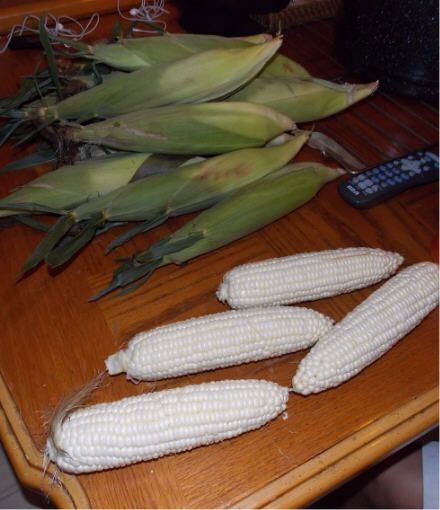 This recipe comes from my friend who gets a lot of fresh corn from up in GA. Thank you Melissa.
First, you blanch your corn for 3 minutes in boiling water. Then, remove and cool quickly. I am using my Great-Grandmother's pot which held about 16 ears.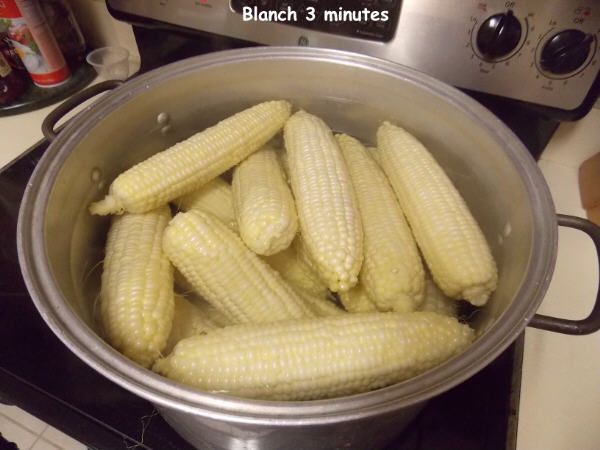 CAREFULLY, use a sharp knife to remove all the corn kernals off the husk. This was actually pretty easy if you stand the ear up on the end and watch your fingers with the first inch. I actually did half the ear, then flipped the ear over to do the other half. I recently cut part of my thumb & nail off with a mandolin slicer, and I did not care to relive the pain to quickly. I was extremely careful when I used my knife.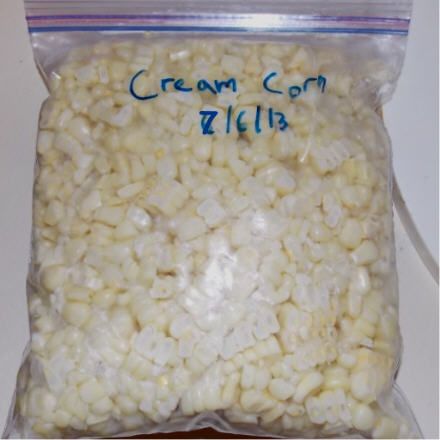 I was able to get 4 ears of corn kernals into 1 quart size baggie. This makes more than enough for 1 dinner for the 4 of us. Probably could have had only half a bag when we broke open a bag for dinner tonight.
You can freeze them easily up to 1 yr (if you can get them to last that long!). I think a can of corn easily will cost you about $.60-.80 in the store. I produced it for $.18- $.36 at home. AND, it was sweeter, fresher, not watered down in a can!
Hope this inspires somebody like it did me. I'm going back to buy more and put more up for the winter.
Blessings, Robin